credits : WAXS
SATURDAY, AUGUST 8, 2009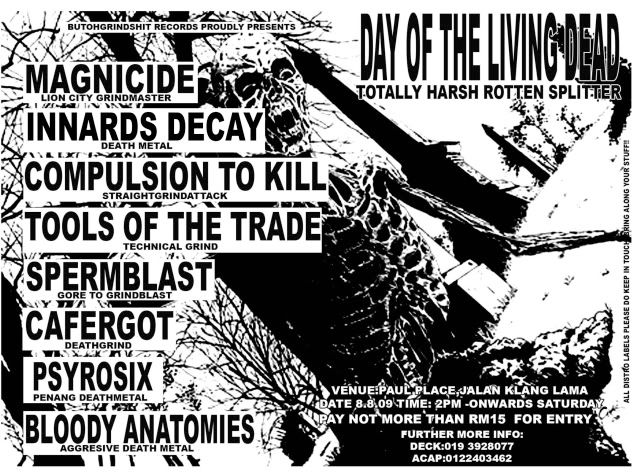 Aku sampai pukul 5 aku ingat aku yang lewat sbb dalam flyers tulis kul 2 last2 start pukul 5! 3 jam lewat,biasa la tu kan..Lepak minum sat kat kedai mamak bawah tu terus naik atas.


Naik ja Bloody Anatomies on the stage Extreme death metal yang dianggotai oleh lineup Incarcerate dari yang aku dengar x banyak perbezaan antara kedua2 band ni,Brutal As FuKK! hanya 2 lagu jer yang aku sempat dengar.


Emcee gig ni memang sempoi,agak malu nyer orang nyer dan yang best slang penang pekat sungguh.Compulsion to Kill after Bloody Anatomies straight grind attack memang dari mula sampai ke abis asyik grind jer no bass player hanya gitar drum & vox.Vox band ni banyak bercerita tentang lirikal song yg dorang nak main sebelum dorang start, kadang2 aku dengar tu macam kelakar pun ade tapi vox dorang ni banyak bg impact yang kuat untuk band ni.


Band yang mempunyai follower tersendiri Innards Decay naik atas stage.Seperti biasa la kalo Innards decay da atas stage memang lama dorang nak setting terutama sekali AP. Banyak sangat barang yang dier guna sama mcm hezree tapi output mmg terbaik.Modern Old School Death Metal yang seswai aku vote untuk dorang banyak part2 yang menarik dalam lagu dorang ni.Antara band yang aku rekommended untuk korang check it out.Cover song from Exploited ngan Dismember antara playist dorang yang panjang pada hari tu.
Lepas abis dorang ni psyrosix naik stage.Aku x tahan dengan suasana sauna kat paul place jadi aku turun bawah sat minum kat bawah. Tools Of The Trade on stage lepas aku naik atas..Fuhhh memang technical sungguh lagu depa ni. Siap ade jazz beat dalam lagu dorang ni.Antara faveret band aku pada hari tu.


Shah Alam mari turn cafergot plak naik stage.Sound agak blast dr dorang ni sampai naik pekak aku kat depan stage. semua song dr MCD dorang dan ade jugak beberapa kagu baru yang aku pun x tahu aper tajuk nyer. Cume yang aku ingat pun ade cover song dr Sil Khannaz " Pendita Gila " antara lagu wajib yang dorang bawak bila dorang perfome.
Abis jer cafergot, band dr temasek. Magnicide on stage, aku pun x tahu baru release ke x CD dorang ni yang mane label dr Japan telah release album dorang ni siap OBI tu CD dorang ni. Aku tgk one of the crew dorang pun ade pakai baju tour Japan Magnicide fuhhh membuatkan aku stay sekejap nak tgk band ni.


Memang gila ini band!!! stroke drum yang consistent grind, gitar and bass yang balance memang buat ini band gila! crowd pun da mula "tumbuk tanah" setiap kali Magnicide start song!!!Aku pun x stay lama nak tgk dorang sbb da pukul 10 pun gig belum abis jadi aku balik dulu sbb aku ade jamm ngan DCA pukul 11.